WHITE PALACE CONVENTION CENTER PROJECT
194 Hoàng Văn Thụ Street, Phú Nhuận District, HCM City
PROCESSING : WASTEWATER CONFERENCE CENTER - WEDDING
White Palace is a leading conference center in Ho Chi Minh City. It has the largest floor area with 8.000 square meters. Accommodate up to 2.600 people for Meetings and events.
Capacity of the wastewater treatment system: 220 m3/day.
Applied technology: Projects using biotechnology FBR characteristic of GREE.
Emission standard: QCVN 14:2008 – BTNMT.
PARTNER:
SOUTH - NORTH RESTAURANT JOINT STOCK COMPANY
194 Hoàng Văn Thụ Street, Phú Nhuận District, HCM City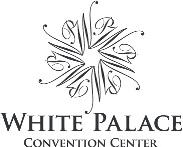 PROJECT PROGRESS
100%